How liberating was the sexual revolution, after all?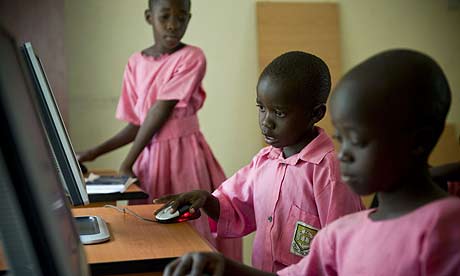 by Brenda Jin
Over 40 years after the summer of love, we're still asking the eternal question: are beauty and sexuality detrimental to women? Shouldn't women flaunt what they own? This is an issue that transcends class, race, and economic circumstance. For example, in a recent article in The Guardian, Annie Kelly explored the relationship of economy to education in Katine, Uganda, highlighting the fact that young women in Katine are economically disempowered. Even if they earn money from jobs such as working in a garden or selling food in the market, according to Kelly, a young woman's income is nevertheless controlled by the family, and she will have no say in how it is spent.

So when it comes to such necessities such as sanitary equipment for their menstrual cycles, women are forced to ask the men in their families for money. At UShs 5,000 ($2.50) per pack, monthly sanitary equipment costs more than most families can afford, especially after other expenses like school books and uniforms. As a result, female students often miss several days a month because of their menstrual cycles; without the appropriate equipment, they face embarrassing leaks, a problem that becomes more complicated with inadequate toilet facilities.
This regular absenteeism results in more than just embarrassment and disadvantaged performance in the classroom. In such situations, young women turn to the one thing they do own and can use for economic empowerment: their bodies. Growing up with a deficit of economic empowerment plays a key role in helping girls in Katine discover their sexuality as a bargaining tool for basic living necessities so that they can continue their educations.
"If you look at many of the challenges we face and the barriers which exist preventing young girls from achieving their potential it all comes back to money in one way or another," said Evelyn Okoth of Mifumi, a Ugandan women's rights NGO. "Girls are lured into transactional sex relationships with often older men because it is the only way they can get the things they need, which results in high numbers of teenage pregnancies and girls leaving school before finishing even their primary education."
It's ironic that in attempting to empower themselves by continuing their education, these young women turn to self-objectification, perpetuating the idea that they are assets or property rather than as potential financial or economic sources of power, an idea reinforced by the current practice of "bride price" in Uganda, whereby brides are exchanged for resources such as livestock, money, or land from the son-in-law's family, according to Kelly.
But using sexuality in order to compensate for economic disempowerment is not an unfamiliar problem. Self-objectification in the name of self-betterment is not confined to Katine or even to the developing world. And I would argue that it is equally familiar to women in America. Because shouldn't women be damned proud of their god-given beauty and female genitalia?
In the face of a lack of individual agency in the realms of economic or political power, those groups who lack power will resort to—and perhaps overuse—the only agency they possess, to the point where it can become detrimental to long-term wellbeing. When the girls in Katine lack the power to change their economic realities, they turn to their bodies for agency. When women are not granted the opportunity to excel in their careers as quickly or as equally as their husbands, they pride themselves even more in their given area of excellence: the domestic sphere.
Sexuality is a self-defeating source of power in the end for both women in Katine and for women in America, because of the dangerous potential and tendency for women to be lured into reducing themselves to precisely what they were trying to overcome in the first place: their status as objects.
American women have come a long way in the quest for equality, but progress for women in America should not and cannot stop at sexual liberation. We have yet to earn equal pay. We have yet to receive equal employment and educational opportunities. We have yet to be perceived by all—including ourselves—as more than our biological potential for child-bearing and as a source of pleasure. We have yet to be accepted and measured by our contribution to society above the fact of our gender. Without having achieved equality in society, we have become content to be satisfied with sexual liberation, and we have only achieved for ourselves the only power that we were given from society in the first place, that which reduces us to objects and commodities: sex.