The patriarchy?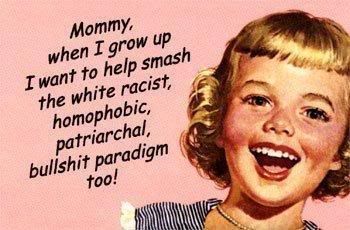 by Josh Franklin
"Patriarchy" is one of the wonderfully trendy words that gets thrown around in most of what's posted here on
EW
. In fact, it makes a prominent appearance in the title of one of the "sites we love":
I Blame the Patriarchy
. The blog sells itself as a beacon of radical feminism, where its author rails angrily against patriarchy, "which invisibly persists as the world's most popular social order..." Describing her blog, the author writes that she
"envisions a post-patriarchal order free of male privilege, rape, misogyny, theocracy, corporatocracy, gender, race, deity worship, marriage, discrimination, prostitution, exploitation, godbags, the nuclear family, reproduction, caste, violence, the oppression of children, the oppression of animals, poverty, pornography, and government interference with: private uteruses, non-abusive domestic arrangements, drug habits, lives, and deaths.
"
There is clearly a lot that author Twisty Faster is angry about. I was once talking to a friend about feminism, and he posed the question: if there's some huge conspiracy against women that all men are part of, then why didn't anybody tell me? The answer, clearly, is that a privileged class is not aware of its privilege; men don't understand all the ways in which society automatically gives them power and oppresses women. The power involved in gender violence in our society emerges in a complicated, diffuse way. That's why it makes me a little bit uncomfortable that the blog's title refers to
the
patriarchy.
If we blame
the
patriarchy, we conjure up the image of a vast conspiracy of men, which holds monthly meetings to discuss how to abuse women. While societies have varying degrees of male power built into their organization explicitly, the pervasive--and far more pernicious--form of male power is, as Twisty implies, the invisible kind. I think this distinction is one that's important to draw.
The more worrying--and personally insulting--thing about
I Blame the Patriarchy
is the little bits of misandry. I hesitate to point this out, because it's an unfair and widespread perception that feminism itself amounts to man-hating. After searching through guidelines for would-be commenters on the blog, I found two instructions for men (those who identify as men?) who want to post: "Male persons who wish to leave comments on this blog are strongly encouraged not to" and "But really, it would be better if men just didn't post in the first place. Really."
I think this is counterproductive and a little bit upsetting. What do you think?